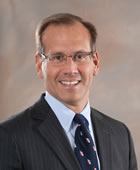 Tel: 610.435.0583
Fax: 610.435.3089
tstevens@davisonmccarthy.com
Two City Center
645 Hamilton Street, Suite 510
Allentown, PA 18101
Timothy T. Stevens
Areas of Professional Concentration
Education
Villanova University School of Law, J.D., 1990; Case and Comment Editor, Villanova Environmental Law Journal
University of Notre Dame Law School London Centre for Legal Studies, Summer of 1988
University of North Carolina at Chapel Hill, B.A., 1985
Admitted to Practice In
Pennsylvania
New Jersey
U.S. Virgin Islands
Mr. Stevens joined Davison & McCarthy, P.C. in June of 2007, and now manages the firm's civil litigation practice. Prior to June of 2007, Mr. Stevens spent nine years as a partner at Stevens and Johnson in Allentown, Pennsylvania, and he also practiced law in the United States Virgin Islands. His litigation experience has been focused in the areas of complex commercial matters, fiduciary litigation, real estate/municipal law, collections, healthcare law, personal injury, orphans' court, employment law and other civil trial matters in both state and federal court.
A number of Mr. Stevens' professional accomplishments are as follows:
Has adjudicated and reached a favorable settlement for a petroleum industry wholesaler in a multi-party trademark infringement and breach of contract matters in Federal court
Has aggressively defended medical providers and medical institutions in numerous medical malpractice actions, with a number of cases having exposure in excess of $30 million
Has represented a manufacturer involved in a complex, multi-party construction dispute involving a waste to energy facility with exposure in excess of $35 million and successfully resolved the claims in private mediation
Has effectively defended parties in numerous Petroleum Marketing Practices Act cases in Federal Court
Obtained a judgment against a business entity and individual in the amount of $1,444,860.68, and then successfully effectuated a settlement with the successor corporation
Has won cases involving disputes over significant funds in escrow for commercial transactions in State and Federal Courts
Prosecuted and defended preliminary injunctions and other equitable relief in State and Federal Courts.
Has defended a major oil refinery in the U.S. Virgin Islands in general liability, employment and other legal matters
Has represented businesses and individuals in easement, adverse possession, title coverage, trespass and many other types of property disputes
Represented injured Plaintiffs in Federal multi-district litigation against manufacturers of a defective medical implant and achieved substantial settlements on behalf of his clients
Has successfully represented numerous other Plaintiffs in catastrophic injury matters, wrongful death and survival actions, professional malpractice, negligent supervision, automobile, premises liability and other cases
Regularly handles Orphans' Court litigation matters including guardianship petitions, surcharge actions, and petitions for accounting
Modified the terms and transferred the situs of an irrevocable trust with assets in excess of $70 million and removed the corporate trustee on behalf of the beneficiary
Resolved a complex partnership dispute with multi-millions in dispute through litigation, arbitration and mediation
Mr. Stevens has experience in handling FINRA arbitration, private mediations and serving as an arbitrator and litigator in the Lehigh County Court of Common Pleas arbitration program. He is well-versed in the appellate process based on his experience in private practice as well as serving as a Judicial Intern to the Honorable John T.J. Kelly, Jr. of the Pennsylvania Superior Court. Mr. Stevens has taught computer legal research as a Business Law Instructor at the Pennsylvania State University, Lehigh Valley Campus.
As an avid scuba diver, Mr. Stevens has been a long-time member of the Explorers Club of New York, and he currently serves as the Treasurer of the Philadelphia Chapter. He participated in Operation Raleigh which was an international expedition of science and community service that was initiated by HRH the Prince of Wales. He sailed on a tall ship in the South Pacific, and was a member of the 1986 Pandora Expedition which was a marine archeology expedition on the Great Barrier Reef in Australia. Mr. Stevens is a PADI Divemaster and a member of the St. Croix Environmental Association. He is actively involved with his sons' high school and summer swim teams and is a USA swimming official.
Publications and Lectures
"The Abandoned Shipwreck Act of 1987: Finding the Proper Ballast for the States," published in the Villanova Law Review
St. Luke's University Hospital Ethics Committee presentation involving end of life legal issues