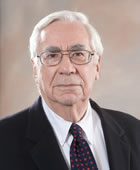 Tel: 610.435.0582
Fax: 610.435.3089
mdavison@davisonmccarthy.com
Two City Center
645 Hamilton Street, Suite 510
Allentown, PA 18101
Maxwell E. Davison
Areas of Professional Concentration
Education
The Dickinson School of Law, J.D., 1957
Lafayette College, B.A., 1954
Admitted to Practice In
Pennsylvania State Courts
U.S. District Court for the Eastern District of Pennsylvania
Mr. Davison, whose judicial career spanned nearly 20 years, is a former Pennsylvania trial court judge. He served for 10 years as an administrative and trial judge of the civil and criminal divisions of the Lehigh County Court of Common Pleas. Prior to his tenure on the bench, he practiced law in Allentown for 14 years, concentrating on corporate, commercial, municipal, zoning and real estate development matters.
Following his departure from the bench in 1990, Mr. Davison was a partner in one of the 100 largest national law firms, where he served as managing partner of its Lehigh Valley office. He then became a founding member of Davison & McCarthy, P.C.
A Fellow of the American Bar Foundation, he is a member of the Lehigh County Bar Association and the Pennsylvania Bar Association where he serves on the Alternative Dispute Resolution, Judicial Administration and Senior Lawyers committees. Mr. Davison continues to serve as a mediator/arbitrator for cases in the Lehigh County Court of Common Pleas.
He is a past trustee of Cedar Crest College, a past president of the Allentown Jewish Community Center, past governor of the Lehigh Valley Community Foundation, past secretary to the Board of Trustees of Muhlenberg College and a member of the Executive Committee of the Lehigh Valley Route 22 Traffic Coalition.